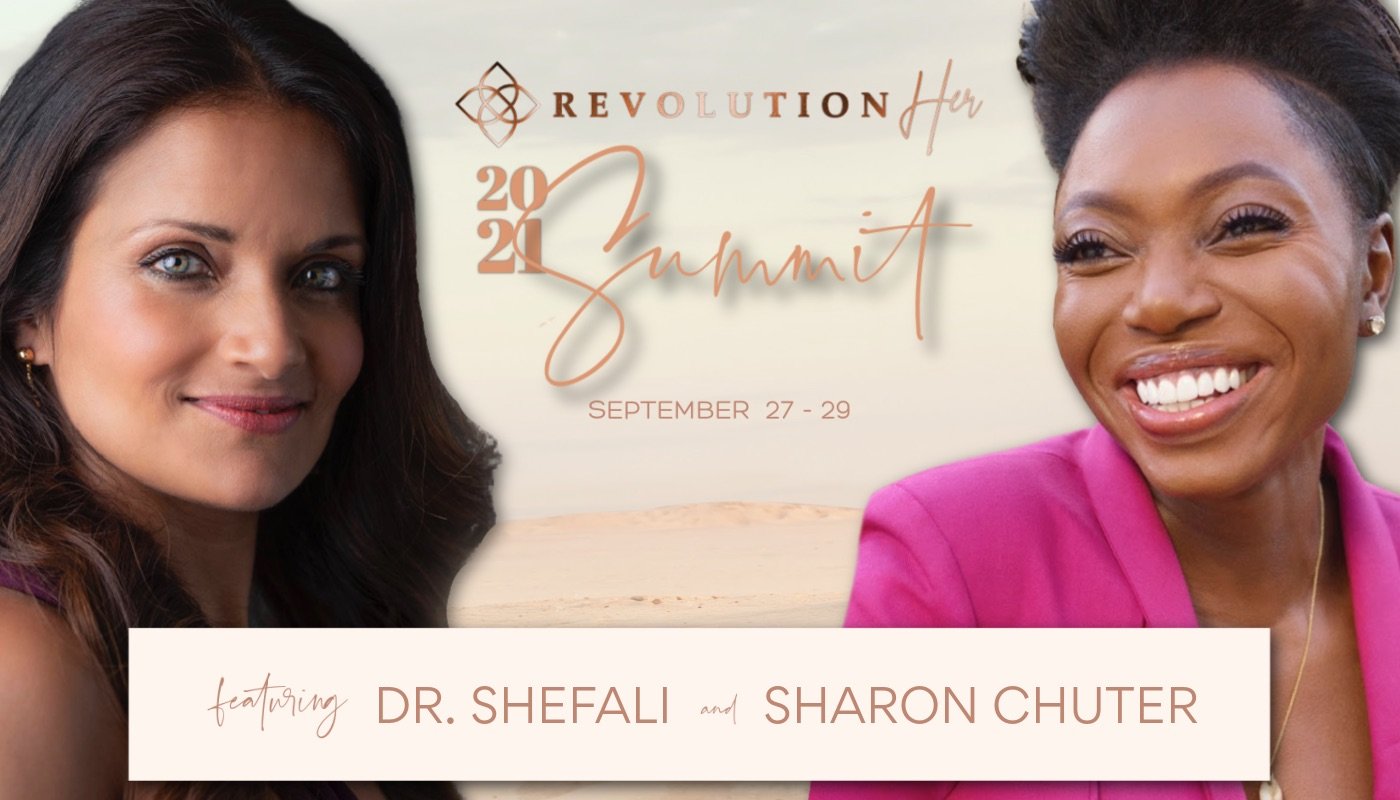 MADE FOR WOMEN LOOKING TO RESET THIS FALL & SEIZE WHAT'S LEFT OF 2021
September 27 to 29th
{12pm - 3pmEST}
We as women have been focused on getting by and taking care of others, but now is the time to focus on you and what you need in your life. Whether it's time for self-care and personal development, growing your business, changing your career or building connections, at our Annual Summit we have you covered.
We know you've been doing your best to keep the status quo, especially over the last 18 months of uncertainty. Our FALL RESET is about focusing on small changes you can make to reach your goals, providing you with community and support to claim back 2021 and leave this year on a high.
VIP TICKET INCLUDES:
Hardcover copy of Dr. Shefali's book A Radical Awakening
Full access to all event programming, including virtual social networking events, and all featured speakers
Delivered gift box valued over $250 with featured items from NOPAULAGIES Apparel, Fever Tree, Arbonne International, select Award Finalists, and more (limited quantities - sneak peek coming soon)
Access to our new RevolutionHer Mentorship Program
PURCHASE VIP TICKET FOR $145
GENERAL TICKET INCLUDES:
Hardcover copy of Dr. Shefali's book A Radical Awakening
Full access to all event programming, including virtual social networking events, and all featured speakers
*Does not include gift box
*Does not include access to our new RevolutionHer™ Mentorship Program
PURCHASE GENERAL TICKET FOR $75
OUR LINEUP
We're offering condensed virtual programming for 3 hours a day over 3 days, covering everything that matter most in your life - from health and wellness, careers and leadership, family, self-care, personal development, beauty and more, including:
DAILY KEYNOTES & CONVERSATIONS
Impactful presentations and conversations with inspiring women:
Dr. Shefali's ground-breaking approach to mindful living and parenting has taken her books to the top of the NY Times best-sellers list, and her blend of clinical psychology and eastern mindfulness has set her apart as a leader in the field of mindfulness psychology. Oprah has endorsed Dr. Shefali's work as revolutionary and life-changing. As an international speaker, she speaks at events around the globe, spreading her message of conscious parenting and mindful living.
Named one of the 50 most forward-thinking executives shaping the future of the beauty industry, Nigerian born Sharon Chuter is the creative director of UOMA Beauty, Sharon has created a makeup range that is forward thinking and uncompromising. She draws inspiration from her Afro heritage and infuses it with fierce modernity to create a truly fresh aesthetic. The collection is made of products that are suitable for all skin tones.
Zoe Whittall is the author of The Spectacular and three previous novels: the Giller-shortlisted The Best Kind of People, Lambda-winning Holding Still for as Long as Possible, and debut Bottle Rocket Hearts. She has also published three collections of poetry, and is a Canadian Screen Award-winning television and film writer, with credits on the Baroness Von Sketch Show, Schitt's Creek, Degrassi, and others.
DAILY LIFESTYLE FEATURES
Interactive sessions with tools, strategies and lessons to help you live your life to the fullest, including:
STRETCHING & BREATHING WITH ZEHRA ALLIBHAI
Fitness enthusiast and FitNest founder Zehra will be leading an interactive and educational full body stretch to help encourage attendees to move their bodies. Zehra will also be highlighting seated stretching options, as well as deep breathing exercises to both energize and relax participants.
HEART HEALING WORKSHOP WITH AMY CHAN
Based on her latest book Breakup Bootcamp, a self-affirming, holistic guide for everyone — single or married, divorced or dating — to transforming heartbreak into healing. Relatable, life-changing, and backed by sound scientific research, Amy's guidance will help anyone turn their greatest heartbreak into a powerful tool for growth.
GUIDED MEDITATION WITH DR. MICHELE KAMBOLIS
Whether you're totally new to meditation or have been practicing for years, this guided session is for you. Meditation is a technology that you may consider a mind-body health practice or you may use as part of your spiritual practice. Whichever you choose, it is a way to anchor yourself in the present moment and become more aware.
DAILY PANEL DISCUSSIONS
Featuring incredible guests sharing their insights and advice through an in-depth panel discussion each day:
2021 REVOLUTIONHER™ AWARD WINNERS ANNOUNCED
Each day we will be recognizing and celebrating these amazing women and youth who were named Finalists for this year's awards, and we'll be announcing our winners LIVE to close out each day of the Summit!
PLUS THERE'S MORE...
We're packing even more incredible opportunities into this event, including:
ILLUMINATION LOUNGE
brought to you by UPS
Our Illumination Lounge features experts from our partners and from within our growing community of 30,000 women across North America. Housing short videos that provide top tips for your business, career and life, each video will pack helpful expertise in just 5 minutes! For every video watched, you will be entered into a draw for a chance to win prizes!
BUSINESS MARKETPLACE
brought to you by GoDaddy
Our Business Marketplace will feature some of our favorite online businesses within our RevolutionHer™ community that you should check out. This is your opportunity to support women-led businesses while enjoying some special offers just for attendees - shop til you drop!
SOCIAL NETWORKING
Meet our RevolutionHer™Team and fellow attendees at our social networking events prior to the Summit on Tuesday September 21st (7pmET) and Thursday September 23rd (1pmET). Find out who used to be a radio host, a model for a teen magazine, what we did before RevolutionHER and who is the better gardener and cook. Need feedback or advice, but are not sure where to turn? Join our networking socials and connect with others in a safe and inclusive space.
BOTH TICKET OPTIONS INCLUDE A COPY OF DR. SHEFALI'S LATEST BOOK...
Whether you opt for General Admission or our VIP Ticket with a curated Gift Box valued over $250, you'll receive a hardcover copy of Dr. Shefali's latest book A Radical Awakening shipped directly to you -- and shipping is included in the cost of your ticket!
The New York Times bestselling author and renowned clinical psychologist teaches women how to transcend their fears and illusions, break free from societal expectations, and rediscover the person they were always meant to be: fully present, conscious, and fulfilled.
A Radical Awakening lays out a path for women to discover their inner truth and powers to help heal others and the planet.
Dr. Shefali helps women uncover the purpose that already exists within them and harness the power of authenticity in every area of their lives. The result is an eloquent and inspiring, practical and accessible book, backed with real-life examples and personal stories, that unlocks the extraordinary power necessary to awaken the conscious self.
"I wrote this book to help women awaken to their authentic selves. I share my own journey so that you can see that I have struggled with the same fears you may have. Through my sharing, it is my hope that you will find your own courage to disrupt patterns that no longer serve you. In doing so, you will set yourself and your children free." - Dr. Shefali
VIP TICKET INCLUDES:
Hardcover copy of Dr. Shefali's book A Radical Awakening
Full access to all event programming, including virtual social networking events, and all featured speakers
Delivered gift box valued over $250 with featured items from NOPAULAGIES Apparel, Fever Tree, Arbonne International, select Award Finalists, and more (limited quantities - sneak peek coming soon)
Access to our new RevolutionHer Mentorship Program
PURCHASE VIP TICKET FOR $145
GENERAL TICKET INCLUDES:
Hardcover copy of Dr. Shefali's book A Radical Awakening
Full access to all event programming, including virtual social networking events, and all featured speakers
*Does not include gift box
*Does not include access to our new RevolutionHer™ Mentorship Program
PURCHASE GENERAL TICKET FOR $75
VIP TICKET INCLUDES:
Hardcover copy of Dr. Shefali's book A Radical Awakening
Full access to all event programming, including virtual social networking events, and all featured speakers
Delivered gift box valued over $250 with featured items from NOPAULAGIES Apparel, Fever Tree, Arbonne International, select Award Finalists, and more (limited quantities - sneak peek coming soon)
Access to our new RevolutionHer Mentorship Program
PURCHASE VIP TICKET FOR $145
GENERAL TICKET INCLUDES:
Hardcover copy of Dr. Shefali's book A Radical Awakening
Full access to all event programming, including virtual social networking events, and all featured speakers
*Does not include gift box
*Does not include access to our new RevolutionHer™ Mentorship Program
PURCHASE GENERAL TICKET FOR $75