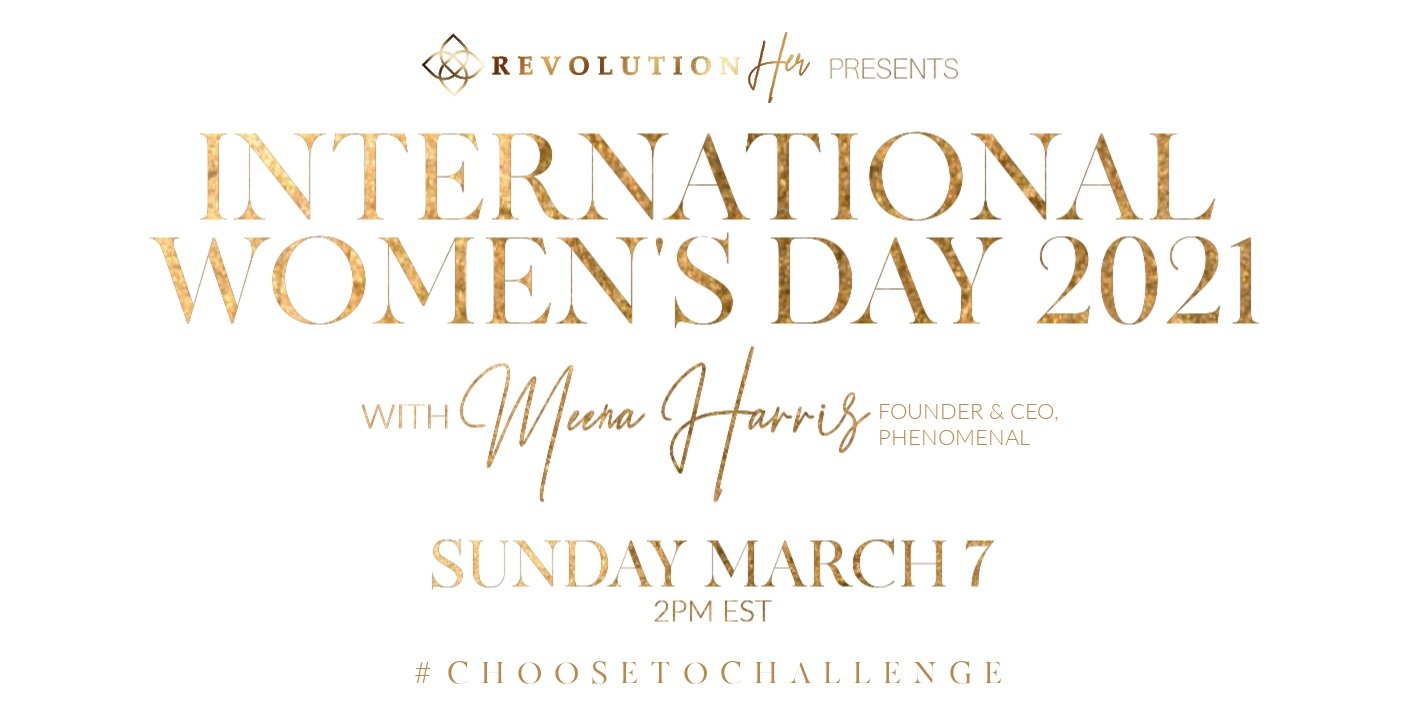 TOGETHER WE RISE.
International Women's Day is a time to come together as a community and marvel at how far we've come as women, while also recognizing the work that still needs to be done.
We hosted an intimate and impactful conversation with MEENA HARRIS to talk about family, justice, women's rights, making history and challenging norms, welcoming close to 1,000 women from 12 different countries around the world!
A portion of proceeds from this event went directly to our nonprofit Momentum in support of women entrepreneurs.
We are proud to support International Women's Day and the 2021 theme of #ChooseToChallenge. A challenged world is an alert world and from challenge comes change. So let's all choose to challenge. Celebrate women's achievement. Raise awareness against bias. Take action for equality.
MEENA HARRIS IS ONE OF THE MOST POWERFUL AND DYNAMIC YOUNG LEADERS OF TODAY.
As the founder of the groundbreaking Phenomenal brand, she is a respected entrepreneur and is recognized as an influential voice for women's equality. Meena is also an attorney with extensive experience in consumer protection, data privacy, and cybersecurity.
A #1 New York Times bestselling author, Meena released her latest book, Ambitious Girl, on January 19, 2021. Meena has been featured in The New York Times, The Washington Post, Harper's Bazaar, Adweek, and more. She is a graduate of Stanford University and Harvard Law School, and currently resides in San Francisco with her partner and two daughters.
Phenomenal is a female-powered lifestyle brand that has been bringing awareness to social causes. Phenomenal launched on International Women's Day 2017 with the expectation that it would last just one month for Women's History Month. Instead, on the first day, the campaign remarkably sold 2,500 t-shirts to benefit its nonprofit partners, and has grown ever since.
Phenomenal has now been running and creating positive impact for over three years, during which time it's seen huge success, establishing a digital audience of over 625 million, and receiving support from more than 1,000 celebrities and thought leaders like Serena Williams, Valerie Jarrett, Jessica Alba, Issa Rae, Eva Longoria, and other influential women.


THANK YOU TO OUR COMMUNITY PARTNERS
RevolutionHER is proud to work directly with our nonprofit arm Momentum in order to offer monetary and business service grants to female entrepreneurs across North America.
Since 2010, we have produced over 750 events to bring women and communities together. Through these events, we have proudly donated over $80,000 to charitable organizations in need.
A community that gives together grows together. We proudly offer a giveback option at checkout to provide others with the opportunity to support female entrepreneurs.